Whenever possible, CoinTracker automatically maps transactions from your wallets and exchanges to their corresponding coin symbols. Sometimes, however, no coin is recognized (e.g. not a supported coin), a symbol is overloaded (e.g. two or more coins with the same symbol), or another coin mapping issue occurs. When no coin is recognized, the coin's icon will be a blue question mark or the first letter of the coin symbol in blue. Here's an example:

A VTHO transaction not correctly mapped to VTHO, as shown by the blue "V" symbol mark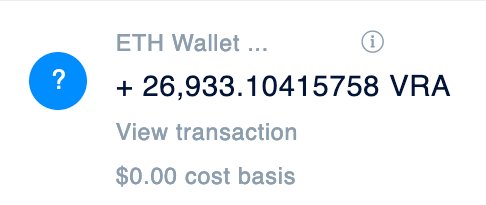 A VRA transaction that was not recognized as VRA, as shown by the blue question mark
Luckily, the fix for this is straightforward. Simply edit the transaction using the dropdown menu and then change the coin to the correct one:
The coin does not show up when I search for it? What should I do?
This means that we are not yet tracking the coin in question. As a short term solution you can add it as a custom currency. For full support, request it on our feedback board.