All CoinTracker users have access to our CoinTracker feedback board. With this board, users have the ability to submit, upvote and follow product feature requests and bug reports submitted by fellow CoinTrackers.
What defines a bug? What defines a feature request?
Bug: A problem or issue with the product that is not working as intended. A bug report should include a clear description of the issue, steps to reproduce it, and any relevant screenshots or attachments.
Feature Request: A suggestion or idea for a new feature or improvement to an existing feature. A feature request should include a clear description of the requested functionality and how it would benefit the user. Any relevant screenshots or attachments can also be added to support the request.
Here's how to submit a post to our New Posts feedback board:
Step 1: Sign in with your CoinTracker account
Users can use their CoinTracker account to sign into Canny, the product we use to host our feedback board. If you don't have an account yet, you'll need to create one here.
Step 2: Access the New Posts feedback board
Click on the "New Posts" link on the top navigation bar to access the feedback board.

Note: Users will only be able to submit posts in the New Posts boards.
Step 3: Submit your request
To submit a feature request or bug report:
click the "New Post" button on the top right corner of the feedback board
fill out the title and description of your request or report, and select the appropriate category (feature request or bug report) from the dropdown menu.
You can also add any necessary attachments or screenshots to support your request. (Remember, this is a public forum, so don't post any screenshots/share any info you wouldn't want visible to others).
Once you're finished, click on the "Submit" button.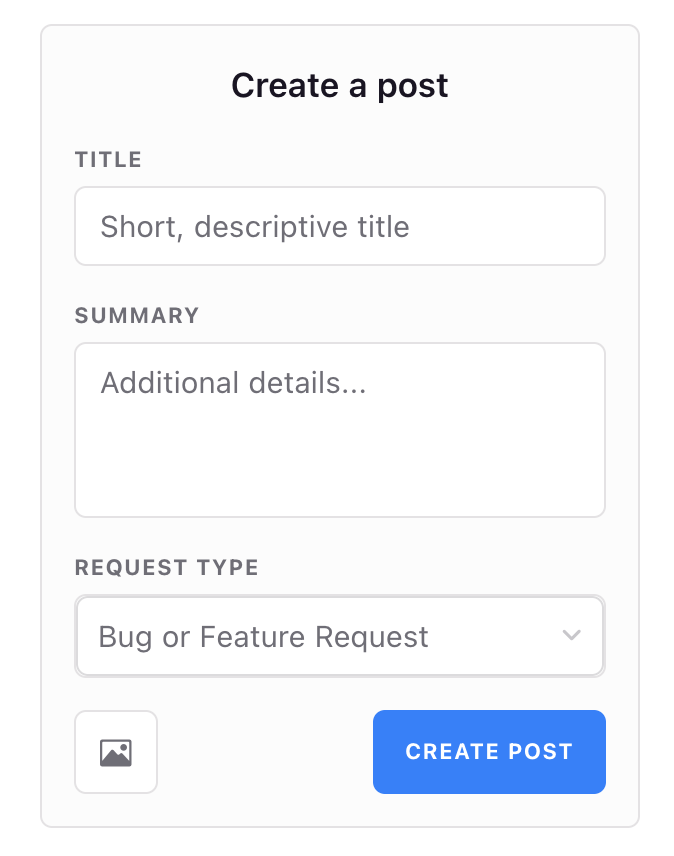 Step 4: Following your request
After you've submitted your post to CoinTracker's New Posts feedback board, the CoinTracker support team will review the content and triage it appropriately.
If the post is a feature request, our team will begin to collect interested users and evaluate the feature based on its potential impact on the product/feasibility of implementation.
If the post is a bug report, our team will begin to investigate the issue and determine the root cause.
If the post matches the content of an existing post, our team will merge the posts to avoid duplication and ensure upvotes are consolidated.
If the post does not fall within the parameters of a bug report or feature request, it will be closed and the submitter will be directed to create a support ticket for additional assistance.
You will be automatically subscribed to updates (via email) to any post you create. You can also follow up on its status by checking the feedback board regularly.
Upvoting other requests:
You can also upvote other requests or reports that you would like to see added to CoinTracker. You can add your upvote by clicking the "up" arrow on any post: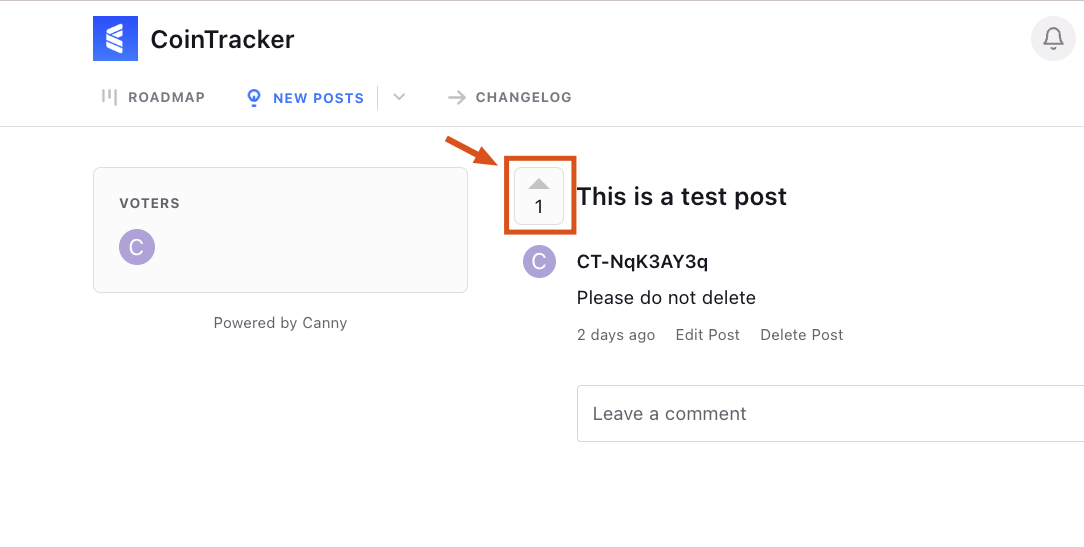 Adding your vote will automatically subscribe you to updates on that post.
That's it! By following these simple steps, you can easily submit feature requests or bug reports to the product team using CoinTracker's feedback board. We look forward to hearing from you!